Hot Spot Coolers
Evaporative Cooling Fan Units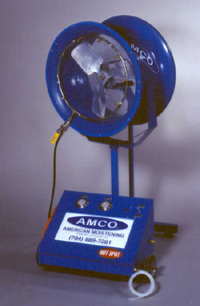 High velocity fan units
Rugged CAT high pressure pump
Industrial metal pump housing
Stainless steel tubing/316 stainless steel compression fittings for manifold
On/Off controls, 316 stainless steel manual shut off per manifold
9 ft. electrical cord, high and low pressure gauges, easy hook-ups, water filters
Cools up to 25° F per fan
Easy installation/industrial design
Can run up to five independent fan units from one pump station
Cooling Distance

Acceptable Air Motion Levels for Worker Comfort*
Air Conditioned Space
50-75 fpm
Fixed Work Station: General Ventilation

75-125 fpm
100-200 fpm
*Adapted from: "Industrial Ventilation. A manual of Recommended Practice, 22 Ed." American Conference of American Hygenists 330 Kemper Meadow Dr. Cininnati, Ohio 45240-1634
Choose the Fan Mount You Need

Chain Suspended
Allows fan to be suspended from the ceiling. Fan includes eye bolts for hanging.

Column/Wall Mount
For permanent mounting to wall or column. Heavy weight oscillator assembly available upon request.

Pedestal Stroller
Mounted on a wheeled base with handle for easy maneuverability.

Yoke Mount
Allows fan to be securely mounted to overhead I-beam or any other flat surface.
AMCO
10402 Rodney Street
Pineville, NC, USA 28134

Phone: (704) 889-7281
Fax: (704) 8897270

Proudly manufactured in the USA for over 100 years.